Outdoor furniture with water-repellent cushions
Brafab's outdoor furniture is designed to withstand our Nordic climate, which quickly changes between bright sunshine and sudden rain. Of course, all our products can withstand being left outside, and to save you having to carry the cushions back and forth when a shower comes, we've added extra functionality to some of our fabrics and cushions.
At Brafab, we make choices that make our furniture resilient to the wear and tear of the weather down to every last detail. This is crucial in order for outdoor furniture to last.

In most of our furniture with cushions, we use olefin fabric, which has many advantages. For example, it holds its colour well and doesn't fade as quickly from the sun as other fabrics do. It is very durable and and at the same time lightweight. It also lets very little water through - and dries quickly. That's why it's perfect for outdoor furniture.
Sometimes even better protection against rain and moisture is necessary, for example for larger upholstered furniture. That's why we've added extra reinforcements to several of our furniture ranges, so that the cushions can withstand being left outside when a shower comes. That leaves you free to do other things.
Tip!
Whatever you choose, cushions benefit from being protected when not in use. Brafab has many stylish and practical cushion boxes to choose from, and many furniture groups also come with figure-stitched covers.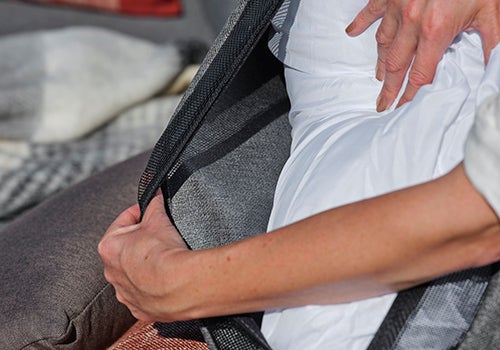 1. Liner - fabric that shuts out water
When we talk about water-repellent fabrics, we are talking about blocking out water as much as possible. In other words, the inside does not get wet. The olefin fabric used in much of our furniture
has good water-retaining properties in itself, but in some cases additional reinforcement may be needed. We then use a so-called liner on the inside of the fabric to further keep water out. The liner we use is transparent and flexible, so you won't feel any difference on the outside compared to a fabric without a liner. Quite simply, a fabric made for outdoor furniture!
Water repellent fabric collections:
Lyra, Naos, Blixt, Kotte beanbag, Stettler, Samvaro, Ninja, Lerberget, Callisto, Skalfort, Populär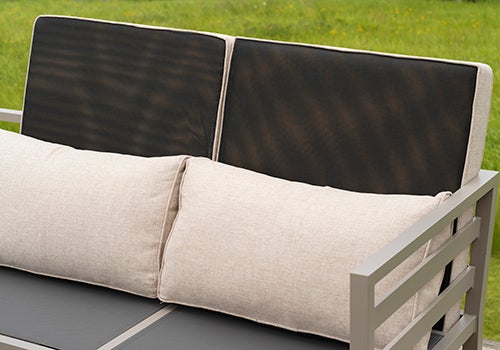 2. Cushions with all-weather foam
When we say all-weather foam cushions, we mean cushions that can withstand a rain shower and then dry out. In other words, it's a cushion that lets water through and has some sort of opening that allows the inside to ventilate and dry when the sun comes out again.
Bear in mind that cushions dry faster if you set them up so that any water drains out more easily.
All-weather foam cushion collections:
Battleford, Weldon, Kotte pouffe, Norrsken, Pollux, Gusty
Furniture with all-weather foam cushions: