How we furnish outside
How do you design a beautiful yet functional outdoor space on a large terrace, in a lush community garden, or on a balcony in the city? Linus Fernström, Elin Lannsjö and Hannes Mauritzson are three well-known Swedish interior design fans who generously share their knowledge and ideas.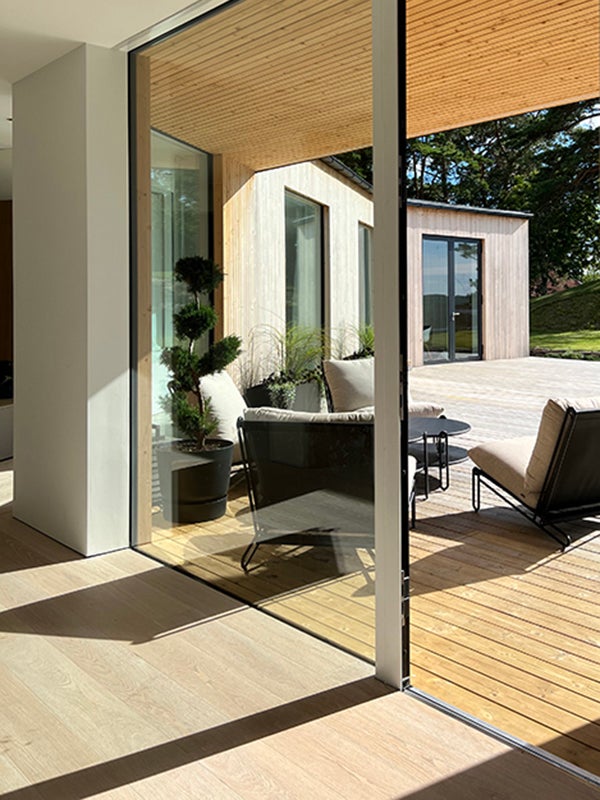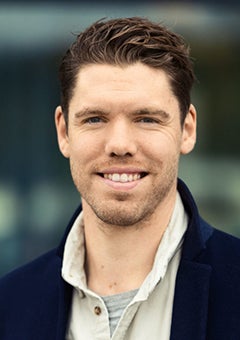 Linus Fernström
@villafernstrom
Linus Fernström and his family live high on a hill outside of Stenungsund (on the Swedish westcoast), with a view of the sea and the undulating landscape down below. With the goals of maximizing the view and meeting the family's needs, he designed this modern house with a large patio, and currently runs his own company: Fernström Arkitektur.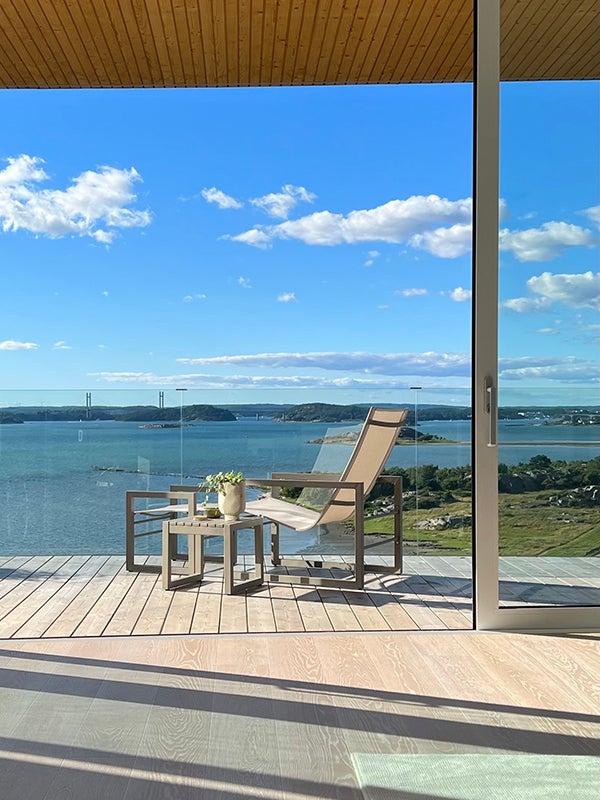 You designed the house yourself. What were your thoughts when it came to the outdoor environment?
"I wanted to incorporate the coastal landscape outside, with the sea and the rolling bays; I wanted that to harmonise with our outdoor space. The outdoor space is usually the clearest meeting between the landscape and a building, and in this case, I wanted to create a gentle transition to the understated style of the house. Hence the curved, organic shapes of the balcony."
What are the keys to creating a pleasant outdoor space?
"I believe in creating multiple rooms. A room for sun, a room for shade, a room for a cosy place to have coffee, but where you could also throw a party. The furniture should be flexible so that the outdoor space can serve different functions."
How did you choose the colours and materials?
"Our entire house is designed with the idea of scaling back in order to focus on the view. That's why we've chosen a clean design with earthy colours, which also recur in the environment around the house. We've chosen substantial patio furniture with thick, fluffy cushions, because the furniture shouldn't look too small on the relatively large balcony. And of course, because it's comfortable to sit on! It's important to not rush your outdoor space. Be patient and see where the sun, wind and mood change with the different days, weeks and seasons."
Tell us about one of your favorite items from Brafab's selection.
"What we like most about our patio furniture from the Blixt series is the sustainability, comfort and design. What more can you ask for from your outdoor furniture?"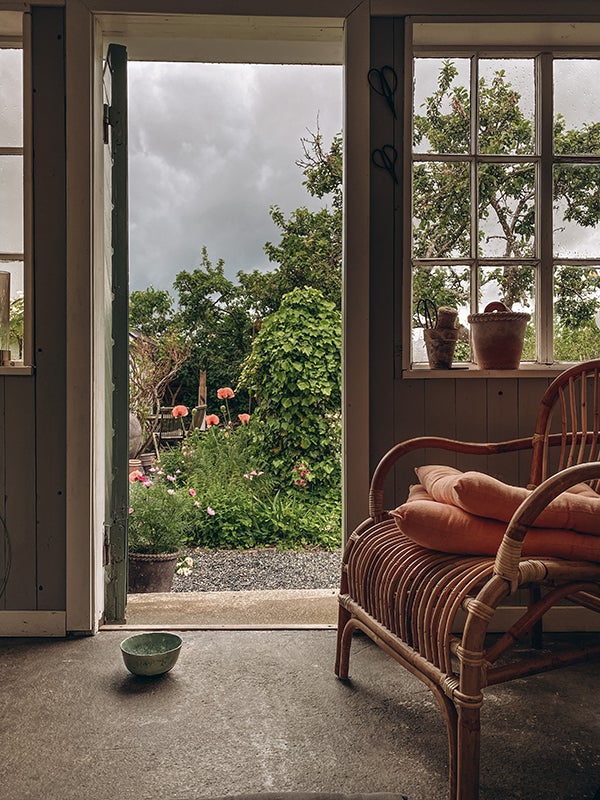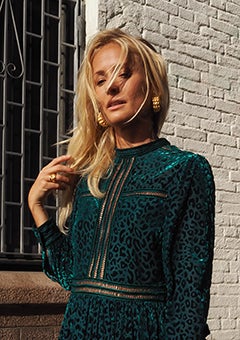 Elin Lannsjö
@elinlannsjo
Elin Lannsjö lives in a classic "landshövdinge" building in Gothenburg in Sweden and extends her time outdoors by creating a living room in the garden at her allotment garden cottage. She furnishes with natural materials that melt into the surroundings and piles on the soft cushions, pillows and other textiles to create a cosy feel.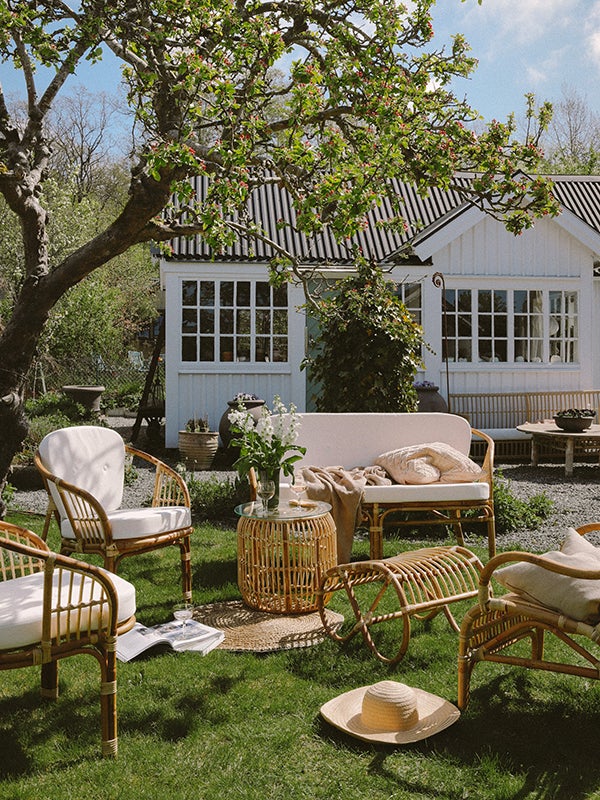 How would you describe your interior design style?
"I always return to natural materials that are also vivid and become more beautiful over the years with use. As a ceramist and stylist, I enjoy working with lots of colour, which might be why I like to quiet things down when I'm inside the four walls of my own home. Here, I prefer to focus on a quieter palette that soothes the soul and senses. But I also like to add a little excitement for the eye, which I do with colour, various styles, volume, or materials that get to crash together. For me, this also contributes to a sense of a more personalized home."
How do you create an outdoor space that feels homely?
"I think about my outdoor environments in the garden as different rooms, and I enjoy working with elements that clearly delineate and define a room. In the garden, the roof can be a beautiful parasol or the crown of a knotted apple tree. That generates a sense of intimacy. The walls might take shape through climbing roses meandering up a trellis. The floor also frames the rooms of the garden, with grass or a space outlined with stones or gravel. Cushions, blankets, wonderful textiles and pillows all add to the inviting atmosphere, and for the cherry on top, I also consider lighting - decorating with lanterns and candles when it gets dark."
What materials do you focus on in an outdoor space?
"For an outdoor space, I always look for really comfortable furniture that can also softly and beautifully melt in with the surroundings. Here at the allotment garden, it's so nice to have patio furniture in natural materials and soft, organic shapes. I'm especially fond of Brafab's Vallda series in natural rattan, which creates the feeling of a lovely Mediterranean breeze in the little cottage garden."
In your opinion, what distinguishes Brafab's products?
"Brafab focuses on both function and high quality, which I think is clear. Brafab has a wide, flexible selection, which makes it inspiring and really fun when I'm looking for ideas and inspiration for my projects."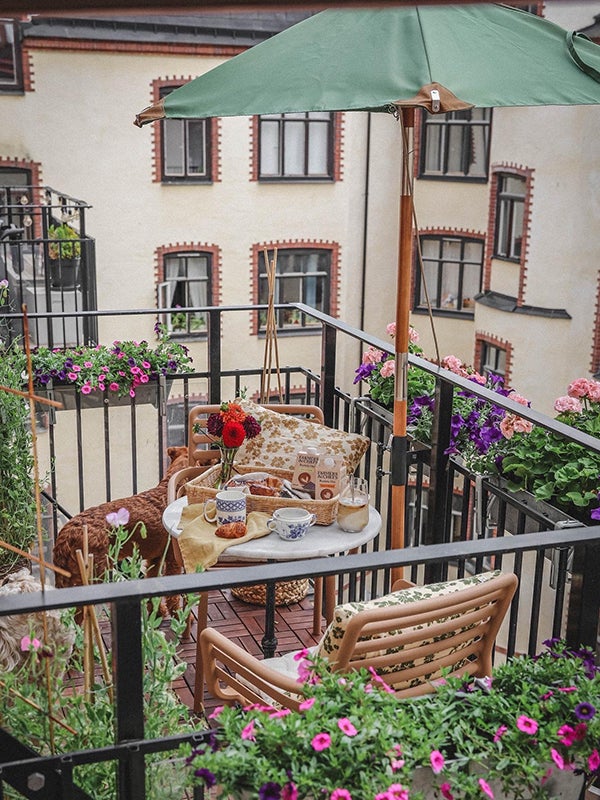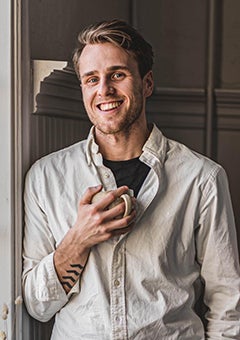 Hannes Mauritzson
@hannes.mauritzson
Hannes Mauritzson lives in Gothenburg in Sweden and has a small city balcony that feels like a countryside oasis. Soft and timeless design, quality and greenery comingle here with the otherwise fairly hard courtyard in the neighbourhood of Linnéstaden. Hannes enjoys opening things up and blurring the line between indoors and out.
What is your interior design style?
"My style is a combination of old and new. In our new home in Gothenburg, we're very inclined to add colour and pattern to Scandinavian design – I think that makes a home more vibrant. Romance meets Danish design. I pretend I live in Paris once in a while; maybe that's what I'm trying to make my home reflect. I use wood and light textiles as a base and then pull out all the stops with cushions, blankets and decorations – which is easy to do on a budget. Something old, something new, something borrowed."
How do you maximize the use of a relatively small balcony?
"For me, it was most important to have a smaller, round café table that allows for chairs to be arranged from any angle. This gives you room for more people and there aren't any edges to walk into when trying to pass. Then we chose to add plants that do well high up – so you don't have to cover every centimetre with flowerpots; instead, you can just have one, where your geraniums or sweet peas can grow, thrive, and take up space. Wonderful."
When it comes to choosing outdoor furniture, what is most important?
"The most important thing to me is that the outdoor furniture can tolerate rain, wind and weather, and that it's practical with a beautiful design that stands up to the test of time. That's how to furnish sustainably – both for the budget and the environment. This strategy is more useful than ever now because we've just bought a holiday home. We'll be taking some of our furniture with us there. And it will be just as beautiful there as on my balcony, but will get to take up more space."
In your opinion, what distinguishes Brafab's products?
"The fact that you get excellent quality at an excellent price. With Brafab, you don't have to compromise – that is what I think makes Brafab stand out on the market. They also have an incredible selection, which means that no matter who you are and what your budget may be, there's something for you."