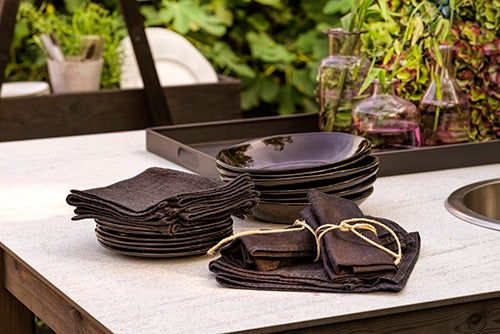 Holma
Affordable outdoor kitchen.
Holma uses black-lacquered pine, where visible knots add a decorative touch that enhances the design. All materials are carefully selected, from the durable laminate worktops to the galvanised steel screws and fittings. Industrial aesthetics meet slick features in a harmonious combination with a distinct Nordic touch.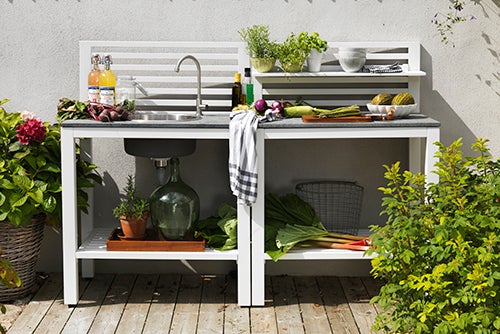 Bellac
Sectional kitchen with luxury granite worktop.

With its granite worktop, Bellac in lacquered aluminium lets you build your outdoor kitchen just the way you want it. The separate worktop, sink and corner units let you create a version that perfectly suits your needs. Thanks to its adjustable feet, your kitchen remains stable even on uneven surfaces. Available in black or white.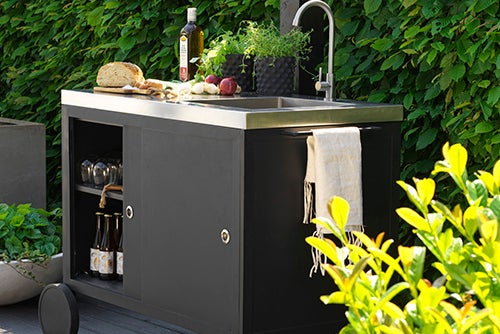 Coldstream
Sleek stainless steel design

Coldstream is the outdoor kitchen for people who like restrained, minimalist designs. This portable kitchen in black aluminium with a stainless steel worktop, sink and tap will meet your every expectation. You also get a solid worktop for all your produce, and large wheels to make moving easy. Practical storage behind sliding doors and hooks on the sides help you keep track of your grilling utensils.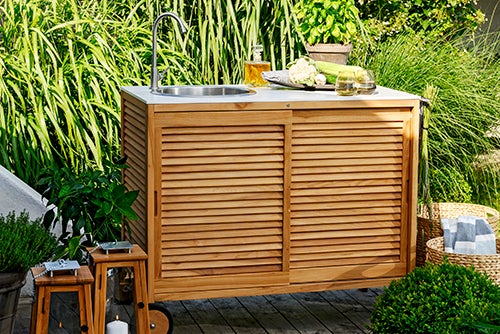 Figalia
Dream kitchen in warm teak
Looking for a portable outdoor kitchen in beautiful teak with a durable, engineered stone worktop? Then Figalia, which offers precisely that, is the choice for you; it also comes with a generous worktop, stainless steel sink and large wheels to make moving easy. There's plenty of practical storage space behind the elegant, ribbed sliding doors, and hooks for your grilling utensils are cleverly located on the sides.